Project History

Over the years, Cyradis has worked with some of the world's leading equipment manufacturers and systems integrators, and is proud to have been part of landmark projects world-wide. Without fail, each of our projects has been completed on budget and on time. As a result, many of our customers have come back to us time and time again for system enhancements and new software products. NBC Olympics


The Cyradis CTG-1000 SPS was used by NBC during their broadcast of the 1996 Atlanta Games. This Split Production Control System allowed NBC to control the broadcast from either the International Broadcast Center in Atlanta or from NBC's main facility in Rockefeller Center, New York.
Subsequent to this project and the Emmy award it garnered from the Academy of Television Arts and Sciences, NBC has selected Cyradis to provide software for every Olympics broadcast since the year 2000. The CTG-1000 RWG Router Web Gateway was provided to NBC for the broadcast of the 2000 Summer Games in Sydney, and an enhanced version was provided to them for the broadcast of the 2002 Winter Games in Salt Lake City. This system is a web-based router control and on-air tally distribution system that allows any standard web browser to function like a router control panel and comprehensive status display.
Just recently, NBC again turned to Cyradis to provide a custom software solution for the broadcast of the 2004 Olympics in Athens, Greece. This time, the solution is a custom application os the CTG-1000 VMS Video Management System, which will control the 50 Sony e-VTRs required to cover 16,000 athletes and officials spread over 33 venues. Taking full advantage of the e-VTR's capability of generating low resolution, frame accurate proxy program material, the system ensures that immediate digital program material copies are available for use by all networked users. The system also allows the large array of e-VTRs to be controlled from one location, with control being done either individually or in groups.

NASA, Kennedy Space Center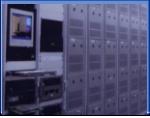 The Cyradis CTG-1000 SMN Supervisory Monitor Control System is used to control the extensive space shuttle launch and landing monitoring facilities. This system augments the already extensive control capabilities of the CTG-1000 SWR System-Wide Router Controller with specialized, extensive sequencing and salvo functionality.
Included in the system is a pool of 1,000 sequences with up to 500 events in each sequence, and and up to 300 salvos with a maximum of 300 crosspoints in each salvo.
This system also has the ability to simultaneously switch any of 768 outputs to a new source within 100 ms of the change commands being issued from 768 control panels - a timing specification matched by no other control system to date.

NBC, Genesis Project
Two Cyradis products, the CTG-1000 SWR System-Wide Routing Controller and the CTG-1000 UMD Under Monitor / Source ID Controller, were provided to NBC for their Genesis project. This project was the complete updating of NBC's extensive broadcast center and facilities in New York.
In 2003, NBC again turned to Cyradis for a real time control solution for the Genesis Project. This time the product was a CTG-1000 GPI Controller. This system allows NBC to use existing protocols to trigger contact closures which are used for a variety of purposes within the extensive New York facility.

DirecTV, Castle Rock Broadcast Center, Colorado
The primary satellite uplink site for DirecTV U.S., this facility uses a Cyradis Custom Real Time Control System for router control.

DirecTV, Japan
As the primary satellite uplink site for DirecTV's Japan operations, the Cyradis' CTG-1000 MBS Real Time Control System provided the real time control for this Multi-Channel Broadcast System.

DirecTV, California Broadcast Center, Long Beach
A Cyradis Custom Real Time Control System is used in this primary satellite uplink site for DirecTV in South America.

TCI, Denver, Colorado
A parent company of Viewer's Choice, TCI turned to the Cyradis CTG-1000 VMS for control of their Sony VideoStore Multi-Channel Video File Server System.

Sony Corporation, San Jose, California
Cyradis has worked in conjunction with Sony in the United States on numerous projects, including DirecTV, Japan, Galaxy, TCI, and NASA.

ASkyB, Phoenix, Arizona
The CTG-1000 MBS Real Time Control System provided control for this Multi-Channel Broadcast facility, the ASkyB satellite uplink facility.

For Media Corporation
Cyradis' Custom Master Control System is used this facility, which provides control for MTV, Asia.

Sony Corporation, Tokyo, Japan
Cyradis is one of the few companies to have created custom software for Sony Corporation, Japan, and have this software - the BZR-1000 - incorporated by Sony into its standard router products.
| | |
| --- | --- |
| | |
| Previous Page | Next Page |